GreenGeeks.ca's Reseller Web Hosting Services – 20% off GreenGeeks Reseller Coupon Code = RESELLER20OFF

Few businesses these days are as prolific and profitable as web hosting. Despite millions of new pages being added to the internet daily, there are still millions of businesses around the world that are not yet online. Your job, as a web hosting reseller, is to reach those businesses and introduce them to doing business online. GreenGeeks can help by providing a reseller hosting package enabling you to make the most of your opportunities.
Reseller hosting is a business model that involves resellers purchasing web hosting space and resources from a provider, like GreenGeeks, then turning around and reselling it to their clients under their own name. Consider it white label hosting, if that helps you understand it better. The key to developing a successful reseller business is to work with the right hosting provider. In Canada, we believe GreenGeeks is one of your best choices. GreenGeeks has consistently achieved great online reviews since the company was first established in the US in 2006.
GreenGeeks Reseller Hosting Features
As we already mentioned in our GreenGeeks Review is more than just a retail provider of shared hosting or VPS. They are a complete provider offering resellers various tools and resources they need to build a successful business of their own. GreenGeeks Reseller Hosting plans come with the following features:
FREE website builder for yourself and your customers;
FREE ClientExec billing system to help you manage your client base;
FREE migration service to help you switch customers to your service;
FREE eNom domain registration account – a $995 value;
Hundreds of mainstream features including e-mail, MySQL databases, etc.;
Access to more than 150 apps that can be installed with a single click;
100% white label hosting enabling you to build your own brand;
GreenGeeks' 99.9% uptime reliability.
Everything a reseller needs is available in a single package. Furthermore, GreenGeeks offers five different reseller packages with varying price structures based on storage and bandwidth. All reseller packages come with unlimited accounts.
What's the Key to Success as a Web Hosting Reseller?
As a web hosting reseller, your business can only be as successful as the service provider you work with. You need a reliable provider that gets the job done no questions asked. That is what GreenGeeks does. GreenGeeks resellers enjoy state-of-the-art datacentres and servers, plenty of help and support and an endless supply of tools. With GreenGeeks, resellers can even offer their customers:
GreenGeeks WordPress Hosting – WordPress is easily the most used and recognized blog-oriented content management system (CMS) on the net. Offering your customers a competitively priced WordPress package is a great way to introduce them to conducting business online.
GreenGeeks Joomla! Hosting – Customers that might require a different set of functionality than what WordPress offers can utilize Joomla! hosting instead. Joomla! is a complete CMS solution capable of supporting e-commerce, social media, and more.
GreenGeeks Reseller Hosting Coupon and Prices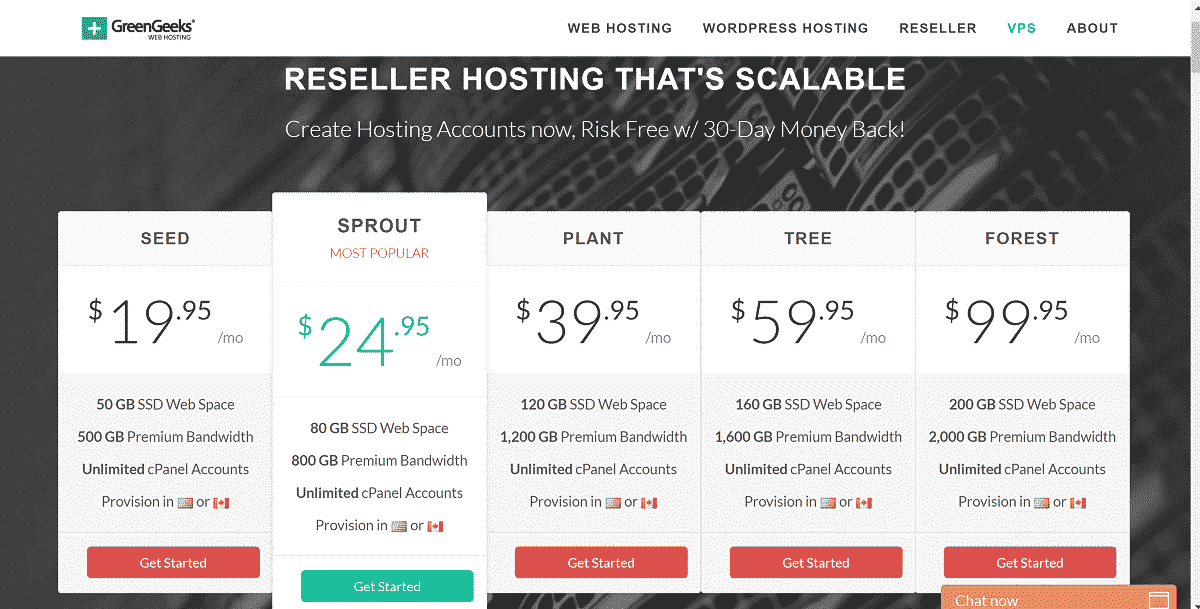 GreenGeeks's reseller hosting's plans are divided in five different offering: SEED, SPROUT, PLANT, TREE, and FOREST – see what they did there!
For each you can choose to have your server in Canada or in the US. As you can see from the screenshot, the different plans cover a wide range in terms of price and what is being offered:
From $19.95/month to $99.95/month;
From 50 GB SSD Web Space to 200 GB SSD Web Space;
From 500 GB Premium Bandwidth to 2,000 GB Premium Bandwidth.
And what's interesting is that all their plans offer unlimited cPanel accounts so that you can pretty much have as many clients as your specs can handle.
GreenGeeks Reseller Hosting Coupon Code: With the GreenGeeks coupon code RESELLER20OFF, you will receive a 20% discount on your web hosting reseller plan.

To receive your GreenGeeks reseller hosting discount, you have to enter the GreenGeeks coupon code at step 2 of the registering process.
GreenGeeks Reseller Hosting Review Conclusion
If you're looking to become an online entrepreneur, reseller hosting with GreenGeeks is a great way to start until you reach a level where dedicated servers become needed.
GreenGeeks is quickly becoming Canada's choice for web hosting and reselling. They have what it takes to help you succeed in the wide-open, but competitive, world of the internet.