GreenGeeks.ca's Web Hosting Services – 60% off GreenGeeks Coupon Code = 10yearsgreen

The popular North American web host GreenGeeks now offers hosting services geared specifically geared towards Canadians. Indeed, GreenGeeks Canada was launched in the Fall of 2011. GreenGeeks is known for being an eco-friendly web host.
GreenGeeks' Shared Web Hosting Plan
GreenGeeks offers one single, but feature-packed, web hosting plan, which start for as low as $2.95 per month with the GreenGeeks coupon. The plan includes unlimited web space and bandwidth (data transfer), unlimited sub-domains, add-on domains and email addresses.
Websites are hosted on enterprise servers, networks and data centers. GreenGeeks Canada uses a 12GB RAM on Intel Dual Quad Core Nehalam processors, RAID-10 Hardware RAID Array's and Multiple Gigabit Connectivity with BGP Routing.
They have on-site staff monitoring the server, network and data center 24/7 year long. GreenGeeks' nightly backups prevents any loss of data. Also note that GreenGeeks.ca's data center is located in Toronto, Canada.
In addition, with all hosting plan, GreenGeeks Canada offers a free domain name for life (usually hosts only offer it for free for the 1st year). You'll also receive a free website builder with more than 600 templates, free website migration if you're hosted elsewhere, $50 worth of marketing credits, and the possibility to use any of the 150+ auto-installation scripts, like the ones that allows you to install WordPress, Drupal, Joomla or other CMS with the filling of a couple of fields and a click of the mouse.
Talking about CMS, you receive unlimited MySQL databases with PhpMyAdmin, and all the popular programming languages are available (CGI, PHP 5, Python, Fast CGI, SSI, Perl).
GreenGeeks' support is available 24/7 via Phone, Ticket System (E-mail) and Live Chat.
GreenGeeks.ca Coupon Code
With the GreenGeeks coupon code 10yearsgreen, you will receive a 60% discount on your web hosting plan.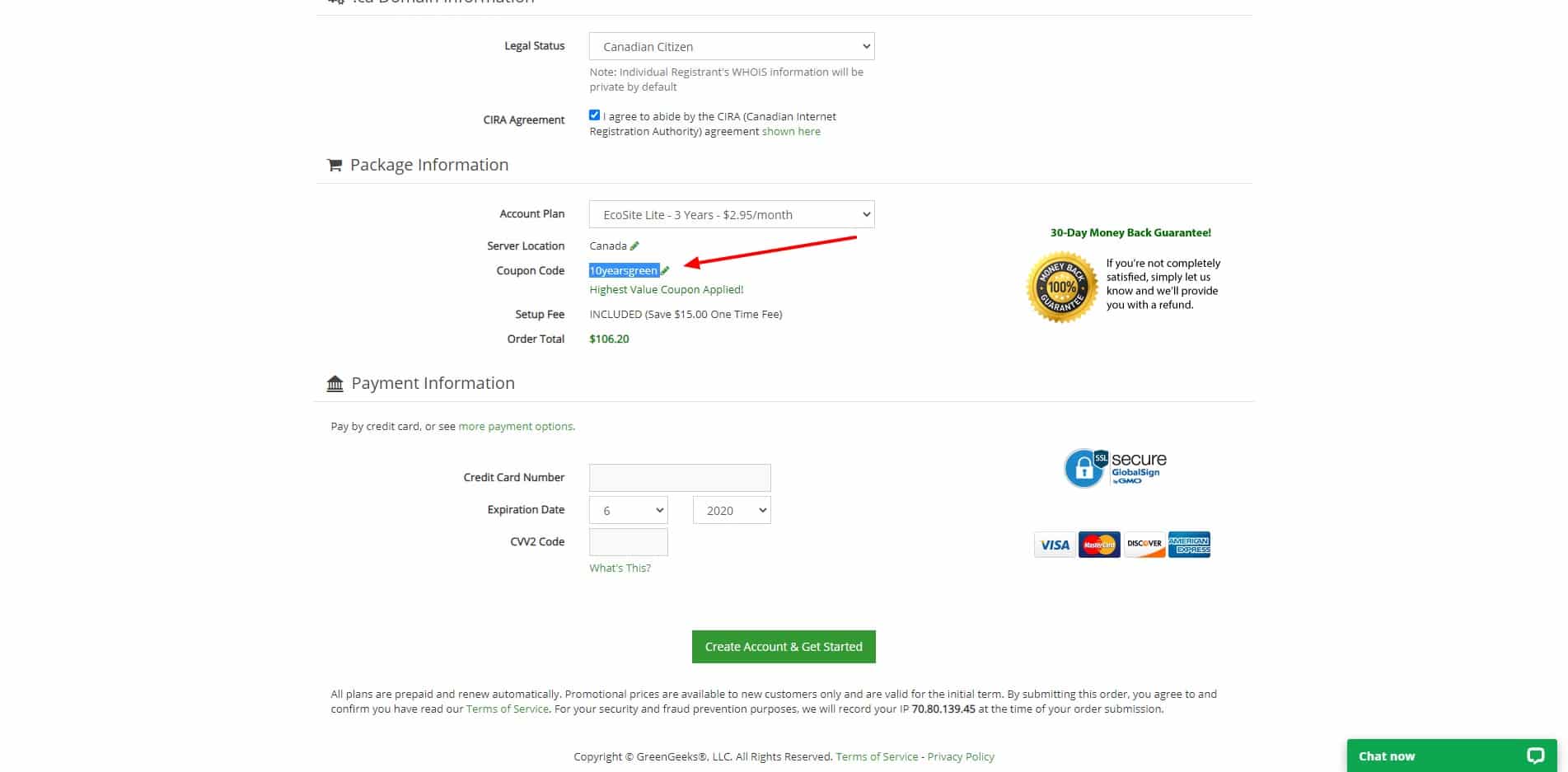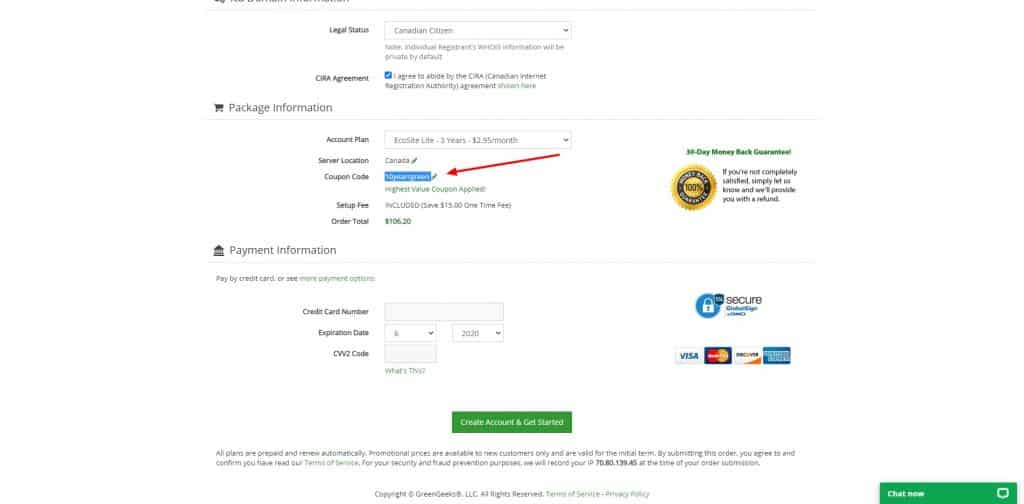 To receive your GreenGeeks discount, you will need to enter the GreenGeeks coupon code at step 2 of the registering process.
60% off all plans for new customers: 10yearsgreen
Green Web Hosting

GreenGeeks is an eco-friendly host who goes beyond the call of duty to be as green as possible. For instance, in collaboration with the Bonneville Environmental Foundation, GreenGeeks buys energy credits to offset their energy consumption. They also make use of wind power to pull less energy from the grid. On top of that, GreenGeeks are big proponents of recycling and home cooked meals, and they encourage telecommuting for their personnel.
GreenGeeks is an eco-friendly, full featured web hosting service with servers in Canada. When you combine this with their responsive customer support and flexible plans, it becomes obvious why so many website owners trust them.
To get more information about GreenGeeks, visit their website.