Sending money overseas has never been the easiest task in the world. Between different exchange rates and so many bank networks involved in the process, transferring money from one country to the next is often complicated and costly. Enter TransferWise, a company founded in 2010 to alleviate the hassles and expense of international money transfers.
What Is TransferWise?
TransferWise is a financial services company founded to do one thing and do it well: help easy and affordable money transfers between countries. It was founded by two Estonians who, because they were working in separate locations, found it difficult to transfer funds between themselves. One was working in the UK while the other was still in Estonia.
They set up their company as a peer-to-peer money transfer service capable of facilitating easy transfers without engaging banks. They have since grown to become a global organization transferring money across 62 routes throughout Europe, North America, Asia, Africa, and Oceania.
TransferWise's philosophy is simple: you arrange a money transfer between your bank account and the recipient's. You send the money to TransferWise and they store it in an account on your behalf. Then they look for another customer looking to send money in the opposite direction. A separate account also stores that customer's money.
To facilitate the exchange, your money is transferred to the other consumer's recipient and vice-versa. Thus, both transfers are complete without having to use a bank network. The arrangement avoids the expense of having to constantly exchange currencies, subsequently eliminating expensive exchange rates and fees. TransferWise's transfer method is like hawala in a way.
Why Use TransferWise?
Cost is the primary reason customers use TransferWise. Simply put, it is cheap. Customers can save between 80% and 90% compared to direct bank transfers and currency exchange services. The way TransferWise manages such savings is built into their business plan.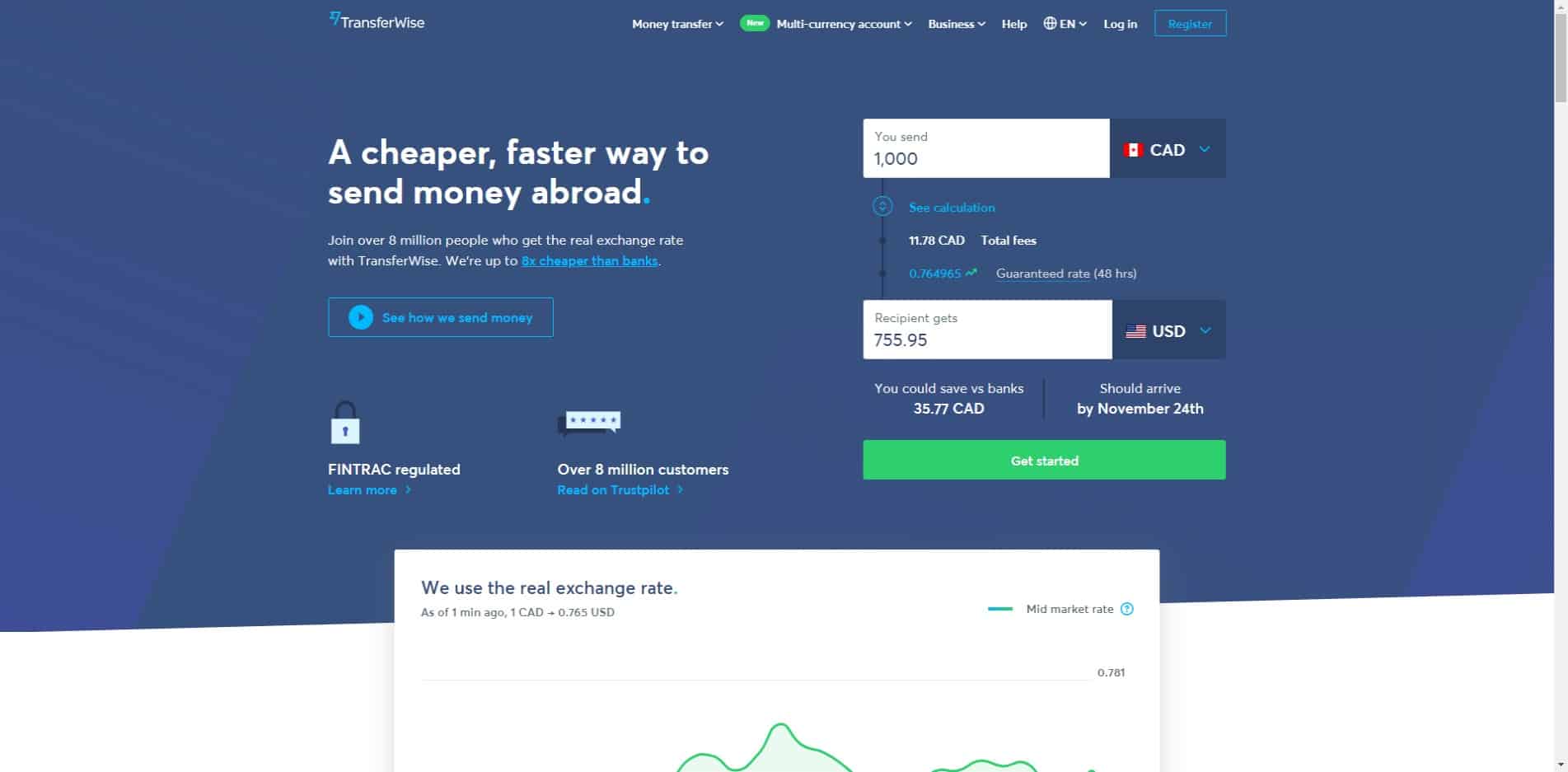 Traditional money transfers involve currency exchanges. You pay the going exchange rate, with the difference between buy and sell rates going to the service provider as profit. The service provider typically adds another fee on top of it.
TransferWise saves money by eliminating currency exchange. Because they are not actually buying and selling currencies, they aren't paying expensive exchange rates either. Their fees are two-fold: you pay a flat service fee for each transfer plus a percentage of the transaction.
How Does TransferWise Compare with Other Services?
TransferWise is not the only way to transfer money abroad without having to go through your bank. There are other services you can utilize. Two of the most popular are PayPal and Payoneer. Let's see how TransferWise compares against both.
TransferWise vs PayPal
We already know that TransferWise is a money transfer company. PayPal is more of a digital wallet and payments provider. You can certainly transfer money between accounts using PayPal, but you can also pay your bills and make online purchases. TransferWise is strictly money transfers.
When you use TransferWise, you must supply the bank account information of the recipient. Though some people are uncomfortable with this arrangement, it does have a big advantage: you can use the service to transfer money to any individual or business. The service is not limited only to TransferWise users.
PayPal does not require you to supply bank account information. However, you can only transfer money to another PayPal member. How do you do it without bank information? You use an email address instead. On PayPal, email addresses act as anonymous account identifiers. You send money to an email address; PayPal takes care of the rest.
In terms of fees, TransferWise is cheaper. This is because PayPal isn't a peer-to-peer transfer network. They still need to go through the currency exchange process, adding the extra expense you don't have with TransferWise.
TransferWise versus Payoneer
Though Payoneer isn't identical to PayPal in terms of its services, it is closer to PayPal than TransferWise. The American company specializes in money transfers, digital payment services, and capital funding for small businesses. Like PayPal, members have actual deposit accounts with Payoneer.
You can use Payoneer to transfer payments overseas, but only business-to-business; the service is not available to individual consumers. Right away, that makes TransferWise the better choice if you are not a small business owner.
In terms of fees, Payoneer is similar PayPal in that they use the traditional currency exchange model. You pay the going rate plus the company's service fee to transfer money. On the positive side, you can accept money from clients worldwide – even if they don't have Payoneer accounts.
How Do You Use TransferWise?
Using TransferWise is straightforward. Sending money involves a 5-step process most people can complete in a few minutes. The process is as follows:
Register – You must register with TransferWise to transfer money. You can register with an email address or your Facebook or Google account.
Enter the Amount – After registration, enter the amount of money you want to send. TransferWise will show you exactly what the fees are and when the recipient can expect to receive the funds. You can decide to continue from there.
Enter Bank Details – Next, you enter the recipient's bank information. You will need the account and routing information.
ID Verification – Some transactions require proper ID. If necessary, you can verify your identification by sending TransferWise a copy of your photo ID.
Fund the Transfer – The final step is to fund your transfer. You can make payment with your bank account, credit or debit card, or wire transfer.
The one downside of the TransferWise service is speed. In some jurisdictions, transfers are almost immediate. Transfers in other jurisdictions can take days to complete. This is why TransferWise tells you up front when the recipient can expect to receive funds. You will know right away if you cannot wait that long to complete a transfer.
Also note that TransferWise offers a multi-currency account for freelancers, small businesses, and others who often send different currencies around the world. A multi-currency account allows you to hold up to 50 different currencies at one time. For people who transfer a lot, a multi-currency account is one way to do so more quickly and efficiently.
Does TransferWise Support Alibaba/Alipay?
Up until recently, TransferWise did not support Alibaba/Alipay users. That is since changed. Since March 2020, TransferWise users have had the ability to tap 17 currencies to send Chinese yuan to Alipay's 1.2 billion customers. More importantly, you do not need the recipient's bank information to make a transfer. Rather, all you need is the recipient's name and Alipay ID. Alipay takes care of routing the transfer to the recipient's bank account.
Does TransferWise Support eBay?
TransferWise does not support eBay directly, but indirect support is possible by adding TransferWise to a PayPal business account. For the record, PayPal was originally owned by eBay. The two companies support one another interchangeably.
To use TransferWise with PayPal, you add it as a funding option in your PayPal account, just as you would add a bank account. When it comes time to transfer funds after making an eBay purchase, you would pay for the purchase via PayPal and select TransferWise as your funding method.
Note that you will not save as much money doing this for the simple fact that PayPal takes its cut. You are better off doing a direct transfer to the recipient if he or she is amenable.
Can TransferWise Be Used in Canada?
TransferWise's global reach makes it usable on just about every continent. If you are Canadian resident, you'll be pleased to know that you can use TransferWise to send money from Canada to any one of the other countries it supports. Just log on to the TransferWise website and scroll down until you see the 62 routes they support. Click on the 'Canada' button and then select the currency equivalent you want to send.
Is TransferWise Available for Business?
Business owners will be happy to know that TransferWise is now available to them as well. Business accounts can be used to send multiple currencies at real-time exchange rates. Business account owners can receive money from customers, pay international invoices, automate payment sending and receiving, and more.
In Summary
TransferWise is a uniquely different way to transfer money worldwide. Thanks to an innovative peer-to-peer concept, TransferWise's founders have created a worldwide network supporting 62 currency routes with affordable and direct payments. If you can live with the fact that it may not always be the fastest way to transfer money, using TransferWise is worth it for the amount you save.