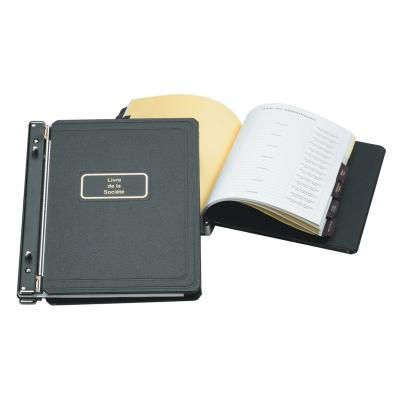 A corporate minute book is a minute book in which the corporation keeps its statutes and other legal documents require by law. Minute books are sometimes referred to as company book in Canada, or as a transliteration of its French name, minutes book (i.e. "livre des minutes").
After the incorporation of a business as a corporation / company, you must proceed with the organization of the corporation. It is usually in the corporate minute book that a corporation keep all the relevant documents to its existence and organization.
You can buy a minute book here.
Additional Information about Minute Books
What do we keep in a minute book?
The minute book holds the records of the corporation, including amongst others the articles and by-laws, the different resolutions of the directors and shareholders, the minutes of meetings, a securities register, a register of transfers of shares. This list may not be exhaustive, but in summary, the corporate minute book holds everything that pertains to the organisation and the corporate governance of the corporation.
Why are minute books required?
Canadian laws create a legal obligation to keep records. Indeed, a federal corporation must respect section 20 and 50, amongst others, of the Canada Business Corporations Act which requires that such records are kept.
When it comes time to open the bank account of your corporation, banks and financial institutions will most like ask you for the minute book of the corporation. An up to date corporate minutes books is nowadays a requirement for most banking institutions.
Keeping a corporate minute book is good practice to keep your corporation organized and in good order and is really one of the foundation of running a good business.
Where to buy a minute book?
You can buy your minute book on the Internet. If you plan on incorporating your business, you can use the LawDepot incorporation service, through which you will be able to buy a minute book while ordering.
If you only wish to buy a minute book for your existing corporation, we suggest visiting Ownr's corporate minute books page, which offers a number of Corporate Minute book options you can buy.