Whatever your motivation for setting up an e-commerce business may be, there's never been a better time to launch a digital storefront. Once upon a time, configuring a website to double as a commercial exchange required hours of installation, configuration and troubleshooting. Thanks to all-in-one e-commerce portals that do all the heavy lifting for you, it's possible to launch an online store in mere minutes. If you're not the most technically savvy web user, the best way to get started is with Shopify. Below you'll find all the information you'll need to put together the e-commerce shop of your dreams using Shopify.
Why Choose Shopify?
Before you hop on the Shopify bandwagon, you should understand how it will benefit you and your business. For one thing, it's easy to use and doesn't require a lot of technical know-how, saving you time and money. Furthermore, it boasts low transaction costs that are attractive to businesses of all sizes. Most important, it makes every aspect of the e-commerce equation less complicated. From shipping to marketing, Shopify makes the quick creation of e-commerce stores its top priority. Though competing options like BigCommerce and Volusion can be a bit cheaper, they're not nearly as user friendly as Shopify.
First Up: Assess Your Hosting Needs
Before you sign up with Shopify, think about which of their plans best suits your needs. The Basic plan starts at $29 per month and offers a credit card rate of 2.9% plus 30¢ per transaction as well as 1GB of storage, unlimited bandwidth and unlimited products. The Professional plan boasts a credit card rate of 2.5% plus 30¢ per transaction while kicking storage up to 5GB. Lastly, the Unlimited plan provides a credit card rate of 2.25% plus 30¢ along with unlimited storage space. Whichever plan you choose, you can easily bump up your coverage later as needed.
Sign Up for an Account
Regardless of the plan you've decided on, you'll automatically be enrolled in a the 14-day free trial to allow you to test the waters. During this time, you can play around with settings, get comfortable with Shopify's CMS and determine whether or not the platform is right for you. If you're still undecided at the end of the two-week period, your store will become frozen. You can reactivate it by signing up for a paid plan. When you first start your free trial, Shopify will guide you through a seven-step tutorial that familiarizes you with the system.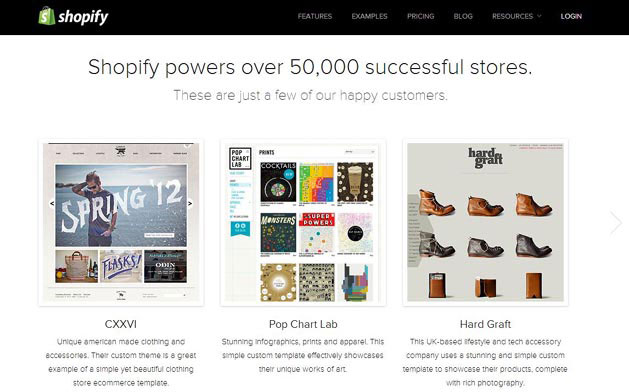 Initial Configurations
Right off the bat, you'll be asked to provide a store name, your email address and a password. Once you've fleshed out some additional details such as your country and phone number, you'll need to set up your site to be active on the web. You can choose to make your Shopify store a subdomain of Shopify.com or use your own custom domain name. You can buy one directly from Shopify or bring along your own domain name that you've purchased from another registrar. For branding and SEO purposes, your own domain is the best option.
If you've already got an existing site that you plan on using for content marketing and promotion, you can simply link from your site to your store. However you plan on setting up your store, Shopify makes the process as simple as possible. If you've never set up a site before and aren't familiar with how nameservers work, let Shopify take care of the details for you. You'll find that administering your store is a breeze once you're signed up. You'll get a confirmation email detailing how to log in to your site, add products and modify your store's look.
Select & Customize a Theme
To customize your site and make it unique, you'll need to select a theme. There are 100+ free and paid themes available from the Shopify Theme Store for you to choose from. If your brand or website already has a logo and distinctive look, find a theme that matches up with it. Once you've previewed, demoed and installed a theme, you can use the Theme Settings Editor to make changes as needed. You can edit the HTML and CSS of a theme to subtly tweak your store's appearance if you're comfortable with basic web design. Alternatively, you can have a professional designer to make alterations for you.
Configure Some Payment Processors
Obviously, you'll need to accept payments to function as an e-commerce store. Shopify supports countless payment options such as PayPal, Google Wallet, Dwolla and Chronopay. Furthermore, you can accept ordinary debit and credit cards easily with Stripe, Authorize.Net or Paymill. You can also choose to accept COD payments, US Postal Service Money Orders or bank transfers. When selecting your payment methods, take care to research local tax rates in your jurisdiction to make life easier for yourself when tax season comes around. Shopify makes it easy to calculate taxes like VAT in any locale.
Add Products to Your Digital Catalog

Now that you've set up payment methods, it's time to add your products to your store. Simply click on "Products" in your back-end administration panel and tick "Add a Product" to get started. Type in typical listings data like price, weight, dimensions and product descriptions. Make sure that you've got high-quality photos of your products to upload and add to your listings. Once you've got your listings the way you want them, simply click "Save" and they'll be available for sale to any visitors. Try grouping similar items together in Smart Collections.
Besides basic product descriptions, you can add things like SKU numbers or barcodes to make inventory tracking easier. You can also add price comparisons if you're selling goods that you've purchased wholesale to differentiate yourself from other online vendors. Within your descriptions, it's often wise to employ unique major and minor keywords such as you might use in an SEO campaign to make your products appear higher in the Search Engine Results Pages. Later on, you can use Google Product Listings Ads with the same keywords to market your goods and make your products stand out when promoting them via Pay Per Click.
Choose Your Shipping Options
Just as important as configuring payment gateways is setting up shipping. The nice thing about Shopify is that it allows customers to quickly and accurately calculate shipping costs for any provider. Likewise, store owners get the convenience of knowing exact shipping prices for FedEx, UPS or the USPS. If you'd like to automate the more tedious aspects of product delivery using the drop shipping model, you can take advantage of Amazon, Shipwire or Webgistix. If you're starting out small, take care of the shipping yourself until you grow to the point where drop shipping makes sense.
Configure Your Apps
Leaving App configuration until the end ensures that you're not missing out on any critical components. The Shopify App Store boasts hundreds of helpful apps for everything from CRM to social media management. For instance, Ordoro and ShipStation make shipping management easier for busy entrepreneurs. Meanwhile, tools like Zendesk allow for hassle-free customer service in a pinch. While some apps are 100% free, most of the more useful ones charge a monthly fee to use. Start off with the bare essentials and add to your app roster as needed while your store grows.
Launching Your Site
Last but not least, you'll need to launch your Shopify installation. Before you do, be sure to review your last-minute checklist to ensure that everything is covered. First off, you'll want to complete a test transaction. You can then move on to checking that your shipping and tax information is accurate. Also, be sure to verify that your domain is up and running. Most important of all is to provide Shopify with your payment information. Finally, go to "Settings > General Page", uncheck the "Password protect your storefront box" option and save your settings to launch.

Marketing Your Wares
Once you're live, you'll need to aggressively market your store to reach your preferred consumer demographics. Fortunately, Shopify makes promotion fairly painless. Ensuring that your products appear within the pages of Google Shopping is a must. Another smart idea is using promotions like special discount codes and coupons to attract savvy shoppers that are easily swayed by bargains. You can also install apps like Facebook Store and Beetailer to make use of social media for promotional purposes. Lastly, you should make heavy use of content marketing via the blog section of your Shopify site to attract organic web traffic.
Getting Additional Help
There's so much more to running a successful Shopify store that unfortunately can't be covered here. For the most part, it's just little odds and ends that will be fairly specific to your own particular needs. If you can't find the answers to your questions within the pages of the Shopify Documentation archives, you may need more personalized assistance. That's where Shopify Experts comes into the equation. In a nutshell, Shopify Experts allows you to contract with seasoned development veterans that can craft custom apps, themes and functionality for your site that allow you to get to the next level.
The Surest Path to E-Commerce Success

Once you've gotten your Shopify store up and running, you'll find it's quite easy to modify your site as you go. If your store grows in popularity beyond your initial expectations, you can quickly scale up your Shopify shop with a few clicks of the old mouse button. Getting to know your Shopify installation and its many capabilities such as advanced conversion tracking and the like will take some time. However, you'd be hard-pressed to find a comprehensive CMS and e-commerce platform with a shallower learning curve and a more expansive feature list than Shopify.